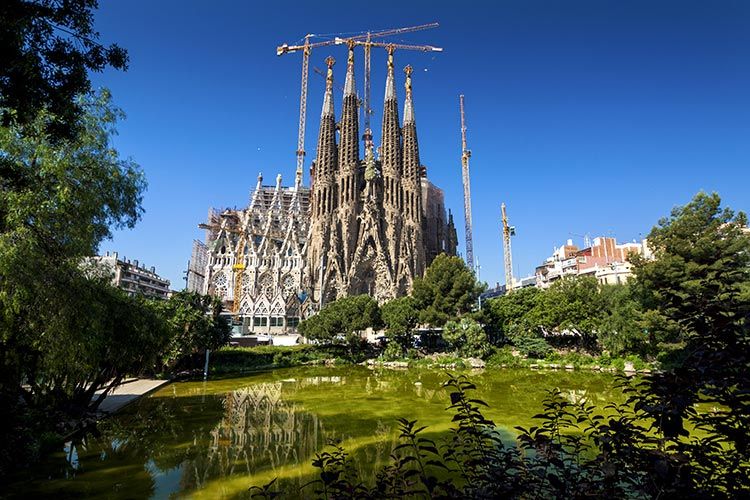 La Sagrada Familia in Barcelona
La Sagrada Familia is the greatest attraction in Barcelona, and perhaps one of the most spectacular churches in the world...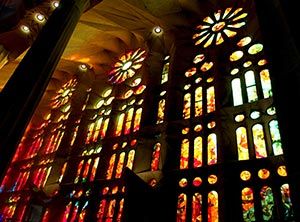 The project is the life work of the architect and genius Antoni Gaudi. The ambitious building project was started in 1882 and is not expected to be completed until 2026, 100 years after his death.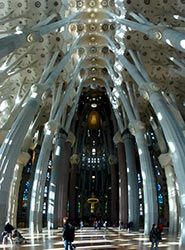 La Sagrada Familia is a marvelous and unique basilica. Very different from most other churches. Antoni Gaudi loved natural and organic shapes. He disliked straight lines, which he believed did not exist in nature. His taste for organic shapes and the peculiar mountain formations of Montserrat outside Barcelona inspired him when he designed the imaginative La Sagrada Familia. The exterior is undoubtedly unique, but also the interior is a great experience. The basilica is light and bright on the inside and at the same time magnificent and breathtaking. The glass-painted windows creates a wonderful play of colors on the walls and floors when the sun is shining. Truly beautiful to look at.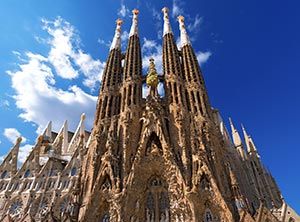 Antoni Gaudi envisioned a basilica that was 95 meters long, 60 meters wide, with room for 13 000 people. The main tower, which is not finished yet, would represent Christ and be 170 meters tall. It would be surrounded by 17 other towers, which all would be over 100 meters tall and symbolizing the apostles, the Virgin Mary and the four evangelists. In other words, we can expect La Sagrada Familia to become even more spectacular as we approach completion.
Adventures Barcelona organizes guided tours to La Sagrada Familia. Expert guides tell you about the history, the controversies and hidden gems of this fascinating building. We will take care of tickets and transportation so you can drop the long queues. Join us to see one of the strangest and most beautiful buildings in the world!

Have a look in our gallery if you would like to see more beautiful pictures from La Sagrada Familia:
Pictures from La Sagrada Familia
Published 2015-08-26
Adventures Barcelona offers unforgettable travel adventures in Barcelona for groups, corporate, sports clubs, and students. If you are looking for group travels, training camps, company trips or student trips to Spain, contact us! Together with you, we will try to create your dream trip to Barcelona!
Norwegian version: Adventures Barcelona - Gruppereiser til Barcelona