Fantastic group trips to Barcelona!
Adventures Barcelona are experts on group travel. We tailor-make unforgettable group trips to Barcelona. Barcelona is in many ways the perfect destination, here you can combine sightseeing, shopping, history and beautiful beaches. You can choose between a variety of fun and exciting teambuilding activities, excursions and festivals. Everything in a great Mediterranean climate.
Destination Management Company - Barcelona
Adventures Barcelona is the best destination management company in Barcelona and have long experience with tailoring unique travel adventures. We deal with event planning, teambuilding and organize fun and exciting activities for your group travel. We offer exiting trips for all kinds of groups. Either you are a group of friends, a choir, a group of wine tasters, or whichever interest you share, we can tailor-make a unique trip to Barcelona based on your budget, desires and dreams.

We cooperate with great hotels with excellent facilities that will guarantee you a pleasant stay. We will find the best activities together with you, and take care of accommodation, transportation and all reservations. We can arrange contact with local groups who share your passions. Together you can exchange knowledge and experiences, have a great time and create memories for life.
Adventures Barcelona takes care of all the practical details so you can relax and enjoy your trip to Barcelona. We offer a wide range of activities like FC Barcelona live at Camp Nou, Segway sightseeing tour, bubble football, gourmet evening at a Michelin star restaurant, racing at Circuit Catalunya, massage, spa and many more. You can also explore Barcelona through sightseeing, shopping or just relax on the beach. Discover the wonderful Catalan cuisine and enjoy great food and wines. Adventures Barcelona wants to give you the perfect mix of experiences and create an unforgettable adventure for you in Barcelona!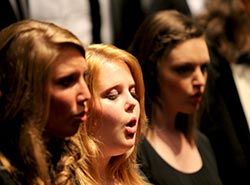 Choirs
Harmony and great musical performances require a lot of work, but the joys of music and the great fellowship makes it worth it. Travelling together increases the motivation even more.
Barcelona is a great destination for an adventure. The city can offer a variety of arts, culture and exciting activities. We will help you get in touch with local choirs and festivals, so bonds of friendship can be formed and memories can be shared. We also offer team building activities that can strengthen the motivation, commitment and unity of the group. Have a look at the activities we offer, and we can tailor make the adventure of your dreams.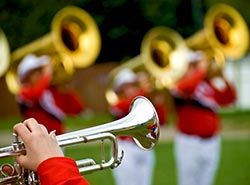 Marching bands
To meet every week, work hard and practice to achieve a common goal is enriching and fun. Especially when the play or the show is a success in the end. Travelling together abroad is a great way to get away from the daily routines and experience something extra-ordinary together!
In Barcelona, you will be inspired both musically and culturally. The city host a large number of festivals, concerts and shows throughout the year. We can help you get in touch with local marching bands and festivals, so you can share your passion for music and have an unforgettable time together. We also offer fun and exciting activities that can increase your pulse and awaken your competitive spirit. Alternatively, you can just enjoy the local gastronomical delicacies, do some shopping and relax at the beach. Together we can create the perfect adventure for you!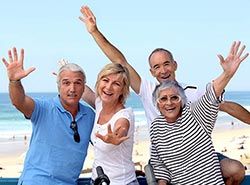 Seniors
As a senior, you often have more time to yourself and your interests again. It is enriching to spend time together with others with similar interests. Today, many have more time to travel and experience new countries and cultures, something that was more difficult earlier in a hectic everyday life.
Barcelona is a fantastic destination for senior groups with its variety of things to see and wonderful climate. Here you can experience art and culture at the highest levels and participate in amazing local festivals. You can explore the history of the city, enjoy the beaches, do some shopping or discover the amazing Catalan cuisine. Adventures Barcelona can tailor make an adventure based on your needs and wishes.