Study tours and fantastic school trips to Barcelona
A school trip to Barcelona is an excellent opportunity to combine academics, unique experiences and fun social activities. Learn about the history and culture of Barcelona, practice languages and visit famous attractions. Get to know you fellow students and teachers better, share experiences and have fun together. Barcelona is the perfect destination for school trips and study tours. Adventures Barcelona can help you create your dream school trip to Barcelona!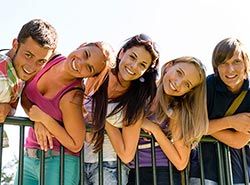 Educational School Trips to Barcelona
Travel to Barcelona and enjoy an educational school trip with exciting activities and new experiences. Adventures Barcelona can arrange so that you can visit Spanish schools and classes. Meet Spanish students, practice Spanish and learn about each other. Experience how it is to be a teenager in Spain and maybe create new bonds of friendship.
Barcelona is the perfect city for a school trip. Here you can combine academics experiences, cultural and historical attractions with shopping, beaches and exciting activities. Barcelona offers so much to see and learn for both students and teachers. An educational school trip to Barcelona can also include exciting and fun social activities. Try bubble football, wakeboarding or ATV racing. Participate in an Amazing Race in Barcelona, an exciting treasure hunt to explore the city, a perfect challenge for students. We can take you to Port Aventura one of Europe's largest amusement parks with the tallest rollercoaster in Europe. You can do sightseeing in Barcelona on a Segway, or just relax at the beach after a long and interesting day. Adventures Barcelona will help you create the school trip of your dreams with a great combination of academic experiences and fun social activities!

Study Tours Barcelona

To organize a large trip for students can be quite the challenge. Adventures Barcelona has the local expertise, extensive network and knowledge about this incredible city, to help you create an unforgettable study tour of Barcelona with both great academic content and fun, exciting activities. We can help you connect with local universities, research institutions and professionals within your area of study. You get to meet fellow students and professors and visit international companies. A great opportunity for network building, and very inspirational for both students and professors.
It is important to combine student travel with some fun and enjoyment. Adventures Barcelona can offer a wide variety of exciting activities. Get the adrenaline pumping with ATVs, rafting, bubble football and other action packed activities. Participate in an Amazing Race and treasure hunt to explore Barcelona. See FC Barcelona at Camp Nou and experience the atmosphere with 100 000 spectators. Join some of our team building activities to improve your cooperation and communications skills, and for a lot of laughter. Together we can make an unforgettable study tour of Barcelona for you.

Destination Management Company - Barcelona
Adventures Barcelona is an experienced destination management company. We deal with event planning, teambuilding, school trips and all sorts of group travel to Barcelona. We can tailor-make fantastic study tours and educational school trips to Barcelona based on your budget, desires and dreams. We cooperate with great hotels with excellent facilities that will guarantee you a pleasant stay.
We will find the best activities together with you, and take care of accommodation, transportation and all reservations. We collaborate with local businesses, schools, universities and research institutions and can arrange for company visits and educational visits, which can provide unique academic experiences for your group. Adventures Barcelona take care of all the practical details so you can relax and enjoy your school trip to Barcelona. We want to give you the perfect mix of academic and social experiences and create an unforgettable adventure for you in Barcelona.