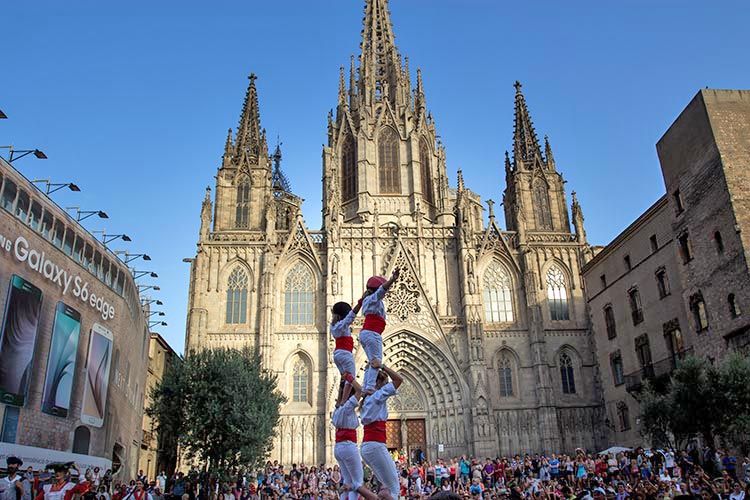 The Catalan festival in Barcelona
Every week, you can experience exhibitions of Catalan festival traditions and traditional Catalan culture in Barcelona...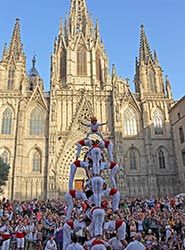 Saturdays at 19:30 from May to September, you should visit the plaza in front of Barcelona Cathedral. Here you can see traditional Catalan shows, like:
Castellers – Human pyramids
Sardanes – Traditional Catalan folk dance
Gegants – Mythical creatures and giants
Catalan stick dancers and more…
This is a great opportunity to experience colorful and exciting traditions and get a taste of the diverse Catalan culture. All of the shows are outdoors and there is no entrance fee. They usually last 1-2 hours, and you can come and go as you please. The address is Avinguda de la Catedral.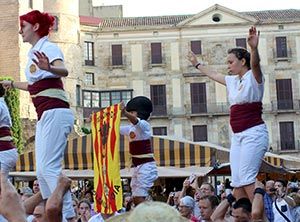 Not everyone knows about Catalonia's struggle for independence. Catalonia is a region in Spain, with Barcelona as its capital. The last years, a strong independence movement have risen. They want Catalonia to become an own sovereign country independent from Spain. The Catalans have their own language and culture. They have their own historical traditions and roots, and many do not want to be a part of Spain any longer. Children in Catalonia learn Catalan as their primary language, and Spanish is taught as a second language. The Catalan local government has called for new elections on 27th of September. They want these elections to be about independence from Spain. The Spanish central government refuses to discuss Catalan independence and strongly opposes the Catalan plans. The situations is quite tense and both Catalonia and Spain are in for an exciting next few months with elections both in Catalonia and in Spain.
If you would like to experience Catalan festivals, shows and culture, contact Adventures Barcelona. We can tailor-make unforgettable adventures in Barcelona and Catalonia for you!
Published 2015-07-27
Adventures Barcelona offers unforgettable travel adventures in Barcelona for groups, corporate, sports clubs, and students. If you are looking for group travels, training camps, company trips or student trips to Spain, contact us! Together with you, we will try to create your dream trip to Barcelona!
Norwegian version: Adventures Barcelona - Gruppereiser til Barcelona