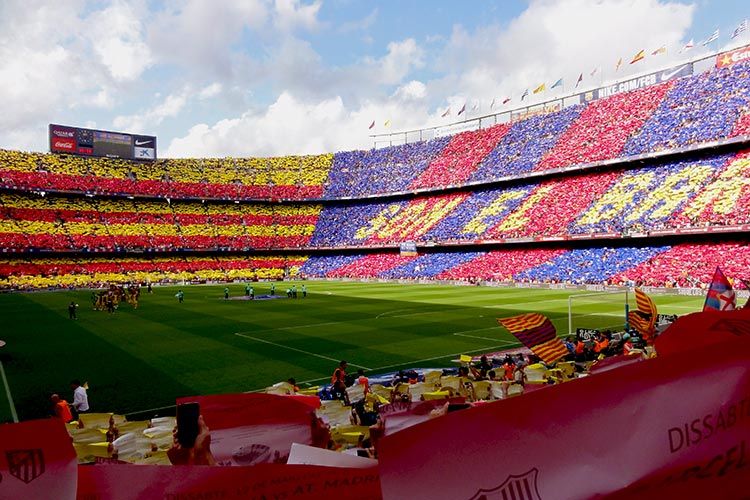 Barcelona highlight
May 17, 2014 will be a day to remember. It's the final day of the Liga season, and the two teams that still have a chance of winning the title will face each other. Despite only getting two points out of a possible six and at one point looking to have lost all hope...
Over the last fortnight, Atlético Madrid got only got one point out of six, and Real Madrid just two out of nine. Which means that victory tonight would make Barça champions for the twenty third time. A draw would be enough for Atlético, who are chasing their first league title since 1996, but Barça have the all-important home advantage. The most dramatic championship race that la Liga has seen for many years is about to come to an end. After Saturday, there can be only one.
The Camp Nou is ready to do all it can to push Barça to a win tonight. After failing to win any of the five meetings between these teams already played this season, the fans' support is needed more than ever. And there is no question that they'll be out in force to give it all they can. Before the match, the whole stadium is going to be transformed into a spectacular mosaic, in the hope that, as happened three times in a row in the 1990s, Barça can snatch the league title on the very last day. The difference this time, however, is that their direct rivals will be the very players that they will be facing on the pitch.
The game is being treated like a final, which in effect is what it is. Gerard Piqué, Jordi Alba and Neymar have all worked hard this week to be fit in time and have been named in the provisional squad. Everyone apart from the injured Víctor Valdés will be there for game that promises to be yet another battle between Barça's famous tica-taca and Atlético's extraordinary intensity. A clash of styles that may not have led to too many goals this season, but which has nevertheless produced some fascinating football.
Source: FC Barcelona
-------------------------------------------------------------------------------------------------------------------------------------------------------------------
Adventures Barcelona offers unforgettable travel adventures in Barcelona for groups, corporate, sports clubs, and students. If you are looking for group travels, training camps, company trips or student trips to Spain, contact us! Together with you, we will try to create your dream trip to Barcelona!
Norwegian version: Adventures Barcelona - Gruppereiser til Barcelona